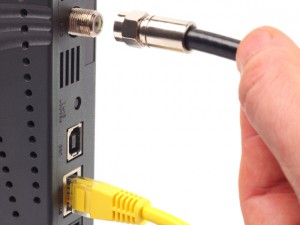 Cable Internet delivers the fastest speeds at the lowest price.
Trinicom can help your company with one of the most popular, convenient, and fastest Internet options, cable Internet uses a coaxial cable. Depending on the service plan cable Internet speeds can range anywhere up to 2 gbps (gigabits per second), which is much faster than dial-up, satellite, or DSL. There are both advantages and disadvantages to choosing a cable Internet connection over other types of broadband, and it is important to keep both in mind when selecting the best type of Internet connection for your specific needs.
Substantially faster than other types of broadband connections such as dial-up, satellite, and DSL, which allows you to transfer data such as photos, music, and videos at high speeds.
Supports data-heavy activities such as online video streaming, VoIP, Downloads, which makes your working experience more efficient.
Speeds are not as fast as fiber-optic Internet, and the speed you receive often depends on how many businesses in your area are connected to the Internet at the same time. Your connection may be noticeably slower if you are online during peak hours.
Not available in all areas.
Up time can be not as good as Fiber, ADSL or Copper over Ethernet
When deciding whether cable Internet is a good option for you, it is important to keep in mind both the pros and cons associated with it, Trinicom can help you make an informed decision.
Trinicom can manage the unruly process of ordering, installing and negotiating with the various channel cable internet providers to give you the best price directly with the carrier, no billing middleman you get the best price direct with the carrier of your choice.
Some of our Channel Partners
Call us and let us help you with your internet orders!
Please contact us for a free a consultation in Houston at 713-375-1801 or toll free at (888) 896-1653 ext 101 or by email